"The students really enjoyed both workshop and performance and found it interesting and inspiring" Antonio Boriello, Phoenix Youth Academy Coordinator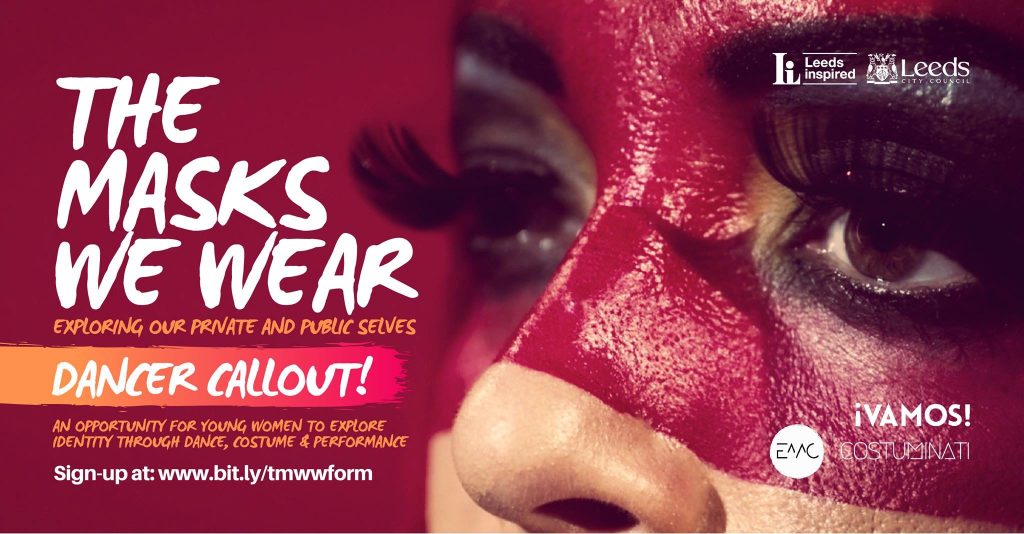 Ella Mesma Company, ¡VAMOS! Festival, and Renata Gordon from Costuminati are collaborating to present an exciting opportunity for young women in Leeds.
Sometimes the performance we put on in life can be more restrictive than our stage performance: from how technology allows us to create our self-image, to the sides of our persona we choose to show or to leave out.
With funding support from Leeds Inspired, part of Leeds City Council we are seeking 12 young women aged 16-25 who will develop a performance and costumes to be premiered at ¡VAMOS! Leeds Festival 2019.
*** The deadline to apply and complete the form is 20 May 2019!
*** You can access the form here: www.bit.ly/tmwwform
"The Masks We Wear" is a project for young women to explore public and private identity through dance and costume. A series of workshop sessions will take place in June and July leading to the opportunity to perform at Millennium Square as part of ¡VAMOS! Leeds Festival (Sunday 21 July 2019). Those selected will work over a 7 week period creating the dance and costumes to be showcased at three performance opportunities including The Reginald Centre (Chapeltown) and Millennium Square (Leeds city centre).
Leeds Inspired is part of the city's cultural programme that celebrates arts events and projects throughout the year, supporting high quality, accessible cultural experiences for Leeds' residents and visitors. Founded in 2012, Leeds Inspired supports culture in the city through grants schemes, commissions and a 'What's On' events website. Leeds Inspired is part of Leeds City Council. www.leedsinspired.co.uk
The Masks We Wear will be performed as part of ¡VAMOS! Festival 2019. Now in its 13th year ¡VAMOS! Festival celebrates Spanish and Portuguese speaking cultures, combining art, film, theatre, dance, music, literature, fashion, sport, food and education offering an international festival appealing to partners and diverse mainstream audiences.
¡VAMOS! Leeds: 21 July 2019 – MIllenium Square, Leeds
Photo: Natalie Teitler: Make Up: Make Up by Micky: Costume: Sabrina J Henry