How are you resting? What Joy are you weaving this autumn? Over here, we have all been weaving a lot of gold!
Firstly we would love to take a moment to CELEBRATE with the amazing Jodie-Simone Howe who won a Black British Theatre Award 2021 for seriously incredible costume creations! 
It was a teary and proud moment for us to hear a mention in her speech, but we have to say: It was all  you Jodie! We are so grateful to have experienced some of your beautiful artistry in our shows and can't wait to see what you create next! 
Next we would like to celebrate because over here we have been all sorts of busy, and yet, my cup is still full up! 
In fact it is overflowing with creative Goddxx magic! We have been embodying the soft and the strong that our latest show Papyllon is all about: embracing the nourishing rest with the guerrera (arrior) active, and the result is a beautiful creative flow! Wahooo! 
What exactly has been flowing you ask?
Well here is a snippet…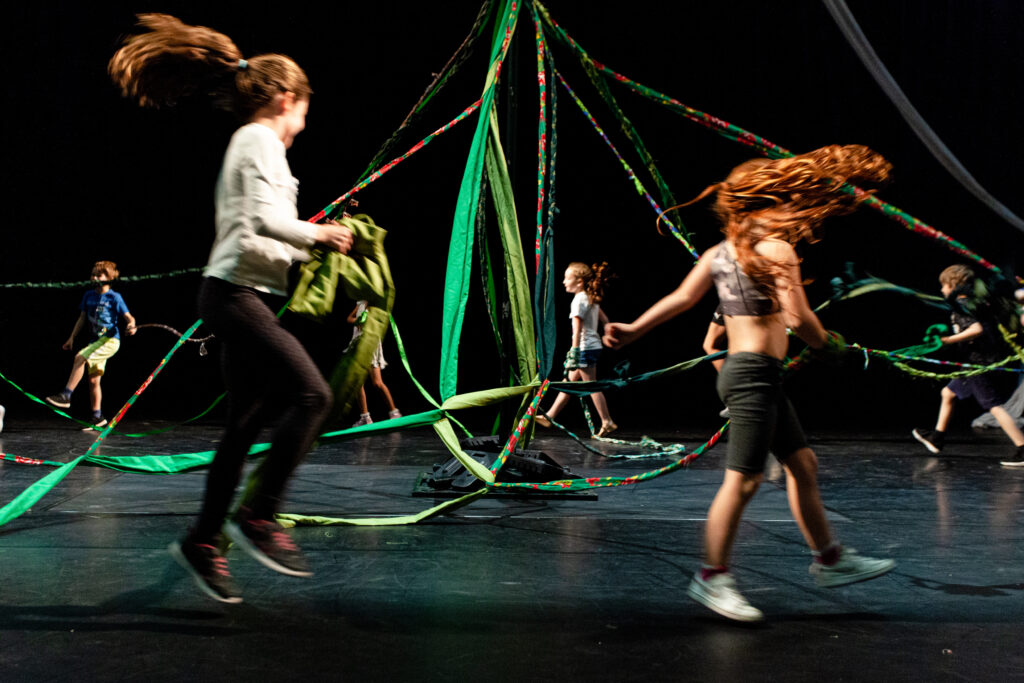 We have been finalising two shows ready to film next week at Dance City in Newcastle! 
The photo above was taken by Vikki Marie Page at PDSW of a children's show we have been creating called The Rainbow Butterfly. 
The journey of these shows started back in Bournemouth at PDSW (Where we were just a week and two days ago)… at a Back to The Lab (an event by Breakin Convention) in around 2011! Back in 2011, I created a scratch of this idea mentored by the wonderful Alessandra Seutin doing amazing things for dance right now and Tony Mills who is now artistic director of Dancebase in Edinburgh (cue another round of congratulations, applause and big ups).
Then, in lockdown, as I reflected on all my recent ensemble work and shifted my focus from what couldn't happen to what I would be able to do in these different times, this idea scratched itself back out, and Papyllon & The Rainbow Butterfly were reborn!
We have just finished rehearsing the work back in Bournemouth where the work began at PDSW, and now we are at Kala Sangam in Bradford before we film next week!
The shows are a children, and a grown ups version of that initial idea, which have become two very distinct aerial silks, dance & music shows which explore oral storytelling traditions and identity.
Alongside these creations, I have been doing a course with the wonderful Sarah Lotus' Mixed Bloom Room on my own identity, which has been incredible, joyful, difficult and everything in between but no doubt has been a part of the alchemy of this moment!
It has been an absolute blessing to be rehearsing with and incredible cast: they have brought so much magic to this space. The cast include Jay and Georgina Lance (and myself) as performers, the incredible Dela Vicki Amedume (who I actually apprenticed with way back in 2009) as Dramaturg, the wise and awesome Claire Harvey (an incredible aerialist and teacher) as aerial support/choreographer, Rachel Bradbear as Producer, the amazing Beverley Thomas (as all around magic maker), Sabio Janiak making the music for Papyllon (along with my own live additions on my new sound looper!), Marv Radio making the music for The Rainbow Butterfly and Zephyr Liddell making the flipping beautiful costumes (Videos of these coming soon in our online world!). Yes! What a blessing to be working with these incredible artists!
We have also been creating a very epic online world with artist Bryan Aldea and illustrator Jessica Rosas, and we will have two sharings in there on the 10th December, (A daytime children's version and an evening adults version). Plus, we will offer a full show experience (complete with sound healing and other magic) to a select 111 people on the 7th January (also in our online world). If you would like to reserve a spot on either date (send me an email here).
Also flowing is some R&D on a duet with Akeim Toussaint at Yorkshire Dance.  Inspired by an interview we recently did with Thomas Talawa Presto. This interview came about when I heard Thomas Presto, director of Tabanka dance (who has formulated a technique called Talawa: a codified system of body movement rooted in the traditional African and Caribbean dance styles), mentioned salsa (my first dance style) being a martial dance. 
I was super inspired, fascinated and curious to hear more, and so invited Thomas Presto to join Akeim and I as the initiation to create a duet (under the working title Like Water Through A Stone) which explores movement inspired by salsa and other dances of the diaspora, along with wing chun, in a contemporary framework.
Talking with Thomas was epically mind blowing, and got Akeim and I all kinds of excited, inspired and empowered stepping in to the studio. This is just the beginning of our journey making this duet, and we would love to hear more from Thomas, so we will be getting him back again soon!
We hope you enjoy the interview (watch it here) and we would love for you to share this talk with friends, to share your excitement with us on these insights over on Facebook or LinkedIn or Instagram, and what your thoughts are on these martial dances or even what you want to hear more about in part two of this interview!
Also, Akeim Toussaint Buck is one awesome human and has a Wildcard coming soon (Check out his upcoming Wildcard at Sadler's Wells here)
Burnout, workshops and retreats for Busy Professionals
We have also had a super inspiring and restful time pairing up with The Busy Buddha Experience to offer corporate retreats, and these were sold out in the glorious Marlborough
And just last week, Anastasia and I spoke to over 170 people in a big UK corporate company about Burnout for our sibling company, the amazing Business Yoga! which is all about practising these tools in the workplace to transform the way we do business (less busy more productivity, and compassionate happy humans).
The Goddxx Path
The final flow I want to mention is this years The Goddxx Pathwhich completed last month! Feedback of this 9 month programme for creatives and professionals has been incredible. I have been coaching 11 incredible humans this year (find out more at my instagram @maya_gandaia). Our 2022 programme opens on the 27th January 2022 and we have 11 spaces (there are 4 spots left). If you would like to know more or talk about getting you in line with your intuition, flow and creative abundance, (message me here) and we can book you in for a discovery call in December!
In between all this magic of course there is a lot of magic, music, rest and delicious food!
And, speaking of magic, here is some more magic to check out;
PUP

On Sunday we dropped an epic episode of PowerUp! Podcast all about Superpowers with the incredible Mara Elizabeth. "The more space and freedom people have to be themselves without worrying about someone else's narrative the better things will be." said Mara. Talking with Mara was all kinds of delicious and so healing and inspiring. Mara Livermore is the creator of House of SweetWaters, a coaching, healing, and consultancy space dedicated to bringing transformational healing energy to individuals and businesses. She is a priestess of the water deities delivered to her through her Hoodoo ancestors and she specialises in elevating the sacred energy of Black and Afro/Diasporic people. We share Mara and other guests journeys and tools to help on our path to your authentic self, and this one is one not to be missed! We would love to hear your thoughts!(Catch Mara's episode here)
Utwopia
Our first Pervasive Media Studio lunchtime talk (Where I am a resident) happens this Friday 26th November Bryan Aldea and I will be sharing our playful online world, and introduce the projects mentioned above. (Book On Here)
DYT
I will be facilitating on an Arts and Wellbeing Training with Displace Yourself Theatre (DYT) for artists and creative practitioners to use their practice to support people's health and wellbeing next year. This training programme is for artists of any discipline in Bradford who would like to develop their facilitation skills to support people's health and wellbeing with a trauma informed approach. DYT are theatre makers and therapeutic practitioners with over a decade of experience working with and for people that are displaced in the UK and around the world. DYT have a trauma conscious approach that combines theatre, movement, sound and wellbeing to bring communities together and build lasting positive change. (Book on here)Journal To Joy And, if you are ready to start collecting Christmas presents, why not gift my (Journal To Joy) to your loved ones? I have been loving this daily practise recently and how it raises my vibration and supports me make magic on a daily basis!
Other things we are pondering…
It's not selfish it's self care ❤️
In (ish) scientific terms, when we are stressed, we, 'flip our lid', meaning our prefrontal cortex goes off line (we are in stress mode: fight or flight), our amygdala runs the show and we perceive everything as a potential threat. Whereas, when we truly care for ourselves, we are able to come back HOME and bring our prefrontal cortex back online, thus we are more able to connect to our high vibrations, and connect with others in our hearts (instead of in defense or fear) and better communicate and make decisions. The result? Beautiful ripples! We spread all that good energy out to our loved ones! So it's not selfish it's self care ❤️ I love you!
Sending you all my love, hugs and magic at this different time, and we will be back soon,

Ella Mesma X