"We delight in the beauty of the butterfly but rarely admit the changes it has gone through to achieve that beauty." Maya Angelou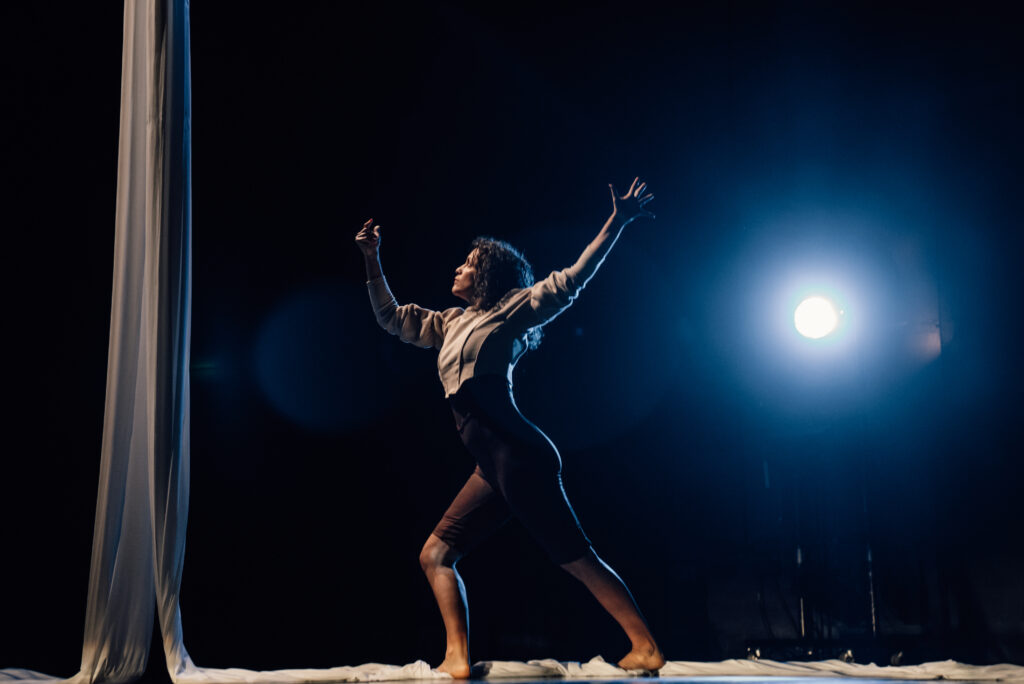 Hello from us at Ella Mesma Company!
We have been R&Ding two shows which we filmed last week at Dance City in Newcastle, and would LOVE to invite you to sharings of both works. It is a dream come true to see this vision from my intuition come true! 
The photo above was taken by Jodie Canwell at Dance City of the children's show we have been creating calledThe Rainbow Butterfly. Costumes and silks by the wonderful Zephyr Liddell. Dancers are Georgina & Jay Lance and myself, and music by the wonderful Marv Radio and Sabio Janiak. We will have two online sharings of this work this Friday 10th in our beautiful online world created by the wonderful Bryan Aldea with illustrations by Jessica Rosas and the imagination of Ella Mesma. This sharing, funded by Arts Council of England with support from PDSW, Kala Sangam, Yorkshire Dance and Dance City has been created in response to these different times, as a symbol of hope! You are invited! 

The first sharing is of The Rainbow Butterfly Friday 10th at 15:30 GMT (Sign up here)  
The second sharing is of on Friday 10th at 17:00 GMT(Sign up here)
This online adventure takes place in Utwopia, a world built by Bryan Aldea and the imagination of Ella (and artists) and with illustrations by Jessica Rosas.
Here you will meet live artists, find hidden answers, discover opportunities to connect and move, and experience an online show. You will be met by your hosts in a utwopian world for a fully remote experience that you can access from the comfort of your own home.
Bring a drink and a snack, for an informal sharing online in a very creative space. Join in as much or as little as you like, bring a friend and we would love to see you there!
Other stuff:
Burnout, workshops and retreats for Busy Professionals
Our next retreat is nearly sold out and we only released tickets last week! (Find out more here)
The Goddxx Path
Our 2022 programme opens on the 27th January 2022 and we have 11 spaces (there are 4 spots left). If you would like to know more or talk about getting you in line with your intuition, flow and creative abundance,(message me here) and we can book you in for a discovery call in December!
And, here is some more magic to check out;
PUP
On Sunday we dropped an epic episode of PowerUp! Podcast, the Pelvic Power series, talking to Sacred and Moon Medicine Activist Ruth Lorna King about navigating our periods and how they can be a powerful time in our cycle of receiving and renewal. We also talk about the healing power of music and finding your voice.
Journal To Joy
If you are ready to start collecting Christmas presents, why not gift my (Journal To Joy) to your loved ones? I have been loving this daily practise recently and how it raises my vibration and supports me make magic on a daily basis!
Other things we are pondering…
Enneagrams! ❤️
I have been fascinated by the Enneagram since meeting William Whitecloud in 2014, and last year I decided to go and get qualified as an enneagram, coach.
The Enneagram is a system of personality typing that describes patterns in how people interpret the world and manage their emotions.
The Enneagram describes nine personality types defined by a particular core belief about how the world works. Our enneagram number is generally formed by aged four and refers to our deepest motivations, fears and shapes how we see the world and the people around us.
These core beliefs can be limiting, so understanding our Enneagram type and how it affects our perceptions of the world and can help us to broaden our perspective and approach situations more effectively (To move from illusion to Joy). This was one of the starting points of the work we have been making, because I and one of the other dancers is a tragic romantic enneagram number 4, also known as the artist! As a result, we are currently building a course for artists to understand how their core beliefs may be affecting their perceptions and how they are experiencing the world.

Classic type 4 beliefs include;

"Other peoples' lives are happier than my life"
"I am different from others"
"I don't belong"

Some classic famous enneagram 4s are Amy Winehouse, Pablo Picasso, Michael Jackson & Prince.

It was not much fun growing up with that belief: I spent many many years feeling pointless, depressed and lost. We can be quick to change our mood (the pendulum swing) from high to low, we have a tendency to dramatize, and we have low self-esteem.

Deep down our need is for love and acceptance ❤️ (to belong)

Here are some top tips that we are working with to retire our not belonging belief:

1. Learn to accept yourself as you are.
2. Recognise and appreciate what you are doing well: collect evidence if you need to, but learn to believe in your talents and abilities.
3. Define tasks and perform them. Do not wait for inspiration.
4. Stop comparing yourself to others. ❤️ 
PS… I do love my Enneagram self it helps me be the artist I am! 🙂
More info on the course coming soon!I love you!
Sending you all my love, hugs and magic at this different time, and we will be back soon,

Ella Mesma X