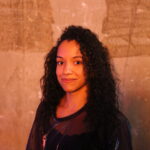 Joana Dias is a Portuguese mixed-race singer, dancer, circus artist and creator. Her previous work experience includes singing, dancing and performing from a young age, including performances for Portuguese TV programs, National Ballroom dancing competitions and Musical Theatre. She studied at Chapitô, a prep circus school in Lisbon and graduated in 2014 from National Centre for Circus Arts in London. Her main circus discipline is Aerial Hoop and she has also developed a technique as an acrobatic flyer.
She has toured internationally, working for NPOs such as Upswing and Mimbre, as well as contemporary circus companies like Cirque Bijou, Barely Methodical Troupe, Silver Lining, Imagineer Productions, Cirkus Cirkör and performing in cabarets, cruise shows, and corporate events.
Currently, Joana is taking a new artistic step towards working as an outside eye in autobiographical solo show. She is also in the process of creating her own first solo show called 89. It has been a blessing joining EMC as a cast member.