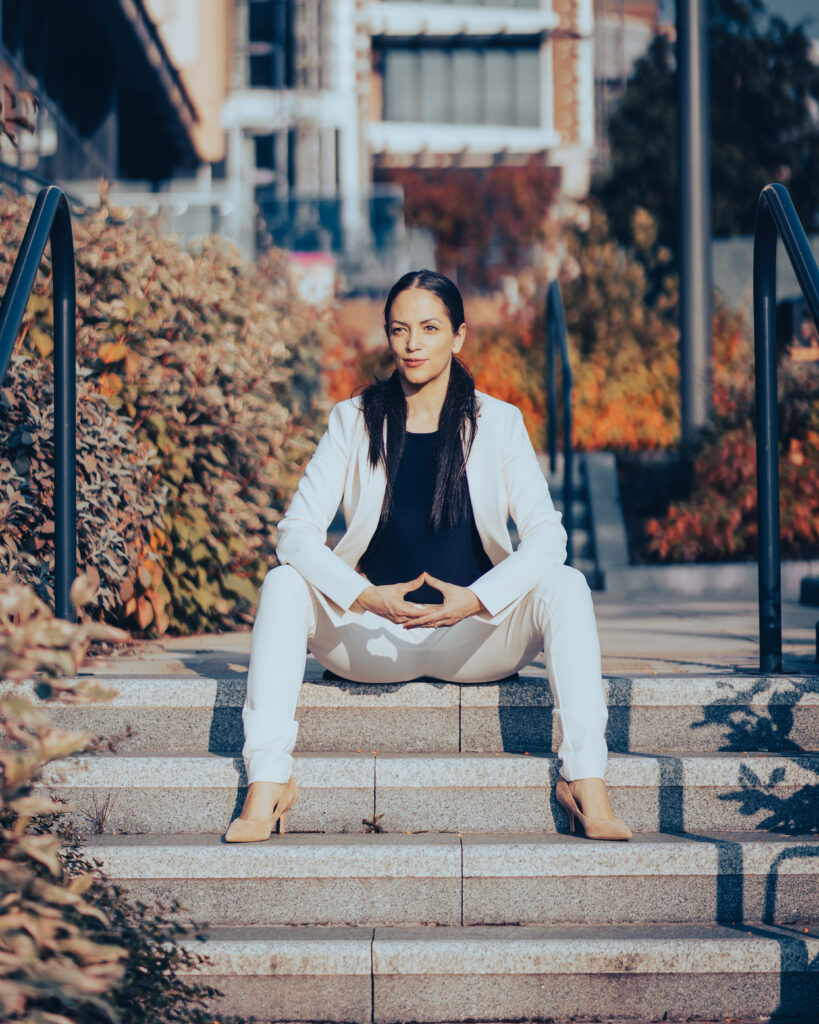 Ella Mesma is a Choreographer, Coach, Artist & Creator. She also goes by Maya Gandaia. Ella is a Published Author, the director of Ella Mesma Company and co-creates PowerUp! Podcast a podcast a podcast to help us all unlearn, rebuild and empower ourselves back to our true nature. 
Ella Mesma is trained in Afro-Latin, breaking & contemporary dance. Ella has performed for Breakin' Convention, Russell Maliphant, The Chomondeleys, and choreographed commissions for Dada Fest, Black Gold Arts, Manchester International Festival, Little Amal, Rural Arts, Bristol Old Vic and more. Ella makes work to undo limiting beliefs, celebrate cultural & social identity & empower & inspire performers & audiences to come back HOME to themselves.
Hey Everyone!
I am Ella (also known as Maya Gandaia!)
I have been dancing forever, but started a wiggly way in salsa clubs in Bristol, then Leeds, getting gigs which eventually took me around the world including Denmark, Serbia, India, Turkey, Spain, South Africa!
I began contemporary when a friend (thanks Helen Wilson!) suggested I audition for a company in Leeds founded by Merville Jones (a founder of Phoenix). It was hard (I had just graduated from Leeds Uni with a Politics & Sociology degree!) & I was so out of shape, but I loved it!
Next, I went to Brazil with one dream: to parade as passista in carnival. In 2006, I was the first gringa to do this & was featured on tv! I also discovered aerial silks!
In 2007, I began to crave an opposite style, so took up breaking. I wanted to be a 'real dancer' so moved to London for a masters in dance at LSCD.
In 2009, I was awarded a Lisa Ullman scholarship to train with Angel Ortiz (RIP) in NYC in On2.
When I got back, I was offered an apprenticeship with Upswing Circus which was a dream come true!
In 2011 I danced my first solo for Breakin' Convention, then had to make a choice: circus or dance? Because I was offered a world dance tour with Russell Maliphant (which was actually really tough but that's another story!).
The next few years I enjoyed perfoming and touring. Some performance highlights and diverse experiences included dancing for Uchenna, touring with Southpaw, guesting for Lea Anderson (The Chomondeleys) and being a dalmation in the Olympics Opening Ceremony!
In 2014, I set up my own company: Ella Mesma Company, to create something where the dancers wellbeing was a priority, & where all the styles I had learnt on my journey had a place and were valued equally.
EMC have been going strong ever since, commissioned by Sadler's Wells, the National Centre for Circus, Dance City.
With EMC, I have been Associate Artist at Dance City (2017), Trinity Centre Bristol (2018), Slate World (2020), Pervasive Media Studio, Pavillion Dance South West (2020-2021).
The company make about one to two shows (Sometimes three) a year.
I also movement direct & choreograph for other companies (most recently Manchester International Festival: Little Amal & Bristol Old Vic: Anansi), and I coach over at Maya Gandaia Ltd, which is such a joy!
I was also a Dance On artist at Yorkshire Dance working with older dancers in 2019 & I created & toured Roots of Rumba Festival (2013-2018) which was epic!