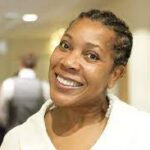 Beverley, a full-time PhD researcher based within the School of English, at the University of Sheffield, and she is doing a placement with the company! We are so blessed because she is AMAZING and we are her biggest fans!
Beverley's creative writing doctorate that delves into identity, particularly Black British, Caribbean, and African descendants. Her research also focusses on identity through the prism of trauma, double consciousness, homosexuality, family secrets, slavery, the supernatural, the mystical and Afro-futurism.
Beverley has been published in several magazines, including Bad Form and the Dream Catcher's Magazine. Her poetry was exhibited in the 'Being Human' national festival November 2021: His House to Our Home – 3D virtual exhibition by Public Engagement Sheffield | art.spaces | KUNSTMATRIX. She has guest lectured, on Octavia Butler, spoken to an international audience for the Daring to Dare developmental programme and was a speaker at the University of Sheffield English Colloquium 2022. She is also the CEO of BDT Creatives, a grant writing and editing company.