Whilst we are in a period of social distancing we have compiled a list of all the classes of our awesome artist friends! (Feel free to email me your classes and I will add them)
Ella Mesma Classes:
MONDAY MORNING MOVEMENT MANTRA WITH ELLA MESMA COMPANY: Mondays 11.11-12.00: Ella Mesma Company Monday Morning Movement Mantra https://www.eventbrite.co.uk/e/ella-mesma-company-monday-morning-movement-mantra-50-minute-class-tickets-101367661404 
TUESDAY EVENING KUNDALINI YOGA: To boost your immunity, release fear and raise your vibration, Tuesdays, 18:30 – 19:45 BST from 14th April https://www.eventbrite.co.uk/e/kundalini-to-boost-your-immunity-release-fear-and-raise-your-vibration-tickets-101452609486 
WEDNESDAY AFTERNOON DESK YOGA: 15:15: Fifteen Moves to make you feel better at the desk: Wednesdays 15:15 GMT  https://www.eventbrite.co.uk/e/take-a-break-15-moves-to-make-you-feel-better-reduce-stress-and-boost-your-immune-system-tickets-101371222054
SATURDAY MORNING: SAMBA NO PE: Saturdays 11AM GMT https://www.eventbrite.co.uk/e/element-arts-online-dance-classes-tickets
SATURDAY LUNCH: EMBODIED ALCHEMY: Saturdays 12:15 GMT: PathFor Series MEDITATION: https://www.facebook.com/groups/wwwtribe
CLASSES WE RECOMMEND: 
ROSANGELA SILVESTRE: All the way from Brazil to your own house  A weekend of dance and drumming ONLINE with Rosangela Silvestre & Alysson Bruno live from Brazil. Exploring symbols, archetypes and forces of nature of the Orixás
Follow the link to book your place:
https://www.eventbrite.co.uk/e/rosangela-silvestre-and-alysson-bruno-masterclass-online-tickets-104461816104
Tickets a per donation, but if you cant afford it they wont turn you away 🙂
https://facebook.com/events/s/rosangela-silvestre-alysson-br/377871506441066

DANCE YOUR ROOTS: We raised €393 in total last weekend for our artist friends in Senegal… and we hope to continue: we had a beautiful event (read more here)
WELLBEING CLASSES WITH DANCING BEE: Co-creative, one-to-one sessions focused on somatic movement and collaborative exchange.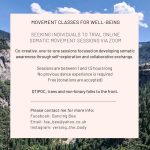 INCLUSIVE CLASSES WITH Magpie Dance Company
Inclusive dance company, Magpie Dance, are proud to announce their new online programme, 'Virtually Magpie'. Over the past few months, the team have been working hard to find ways to reach a wider audience under the current artistic theme of technology. Their fantastic Artistic Director, Alison Ferrao has been significant in driving this theme, encouraging dancers to have new experiences with technology and dance. Although Covid-19 has posed many issues for them, Magpie Dance still want everyone to experience the joy of when dance and technology collide; 'Virtually Magpie' is an exciting new way for them to do this. All classes are inclusive, free and require no registration! The Magpie Dance team are incredibly excited to host this programme! Keep your eye on their website, subscribe to their YouTube channel, and follow their social media platforms (@MagpieDance) for 'Virtually Magpie' updates. View the timetable here
CLASSES FOR THE OVER 50s: This is something that has a huge space in my heart. If you know of someone over 50 please pass this on (And of course, anyone can take part) The wonderful Lucy Haignton will be teaching classes 3 days a week from 2-3pm https://www.facebook.com/50ContemporaryDanceSheffield/?modal=admin_todo_tour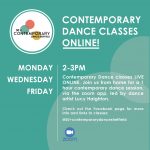 CLASS FOR THE OVER 60s: Company of Others: Artistic Director, Nadia Iftkhar is leading weekly creative movement 
When: Apr 10, 2020 11:00 AM – 12:15pm  REGISTER
When: Apr 15, 2020 11:00 AM – 12:15pm REGISTER
When: Apr 23, 2020 11:00 AM – 12:15pm REGISTER
When: May 1, 2020 11:00 AM – 12:15pmREGISTER
CLASS WITH AMA ROUGE: SWEAT SASS SKILL SAMBA: Samba no pé online classes! UK time (GMT)
MON  6-7pm Samba Foundations, WED   7-8pm Advanced, THUR 6-7pm Improvers/Intermediate. Suggested Contribution is £5-10 per class. PAYC (Pay As You Can) I greatly appreciate what you can pay during this challenging time. www.bookwhen.com/amarouge
CLASS WITH BATCH GUEYE: Batch Gueye teaches contemporary and traditional West African styles including Sabar dance from Senegal, Wednesdays 8pm £10 https://batchgueye.com/classes.html
CLASS WITH ELEMENT ARTS: Latin Hip Hop with Hannah: Tuesdays 7pm, Tango with Anna: Thursdays 7pm Commercial Latin with Micky: Fridays 6pm, Samba with Ella Saturdays 11am, Embodied Flow with Ama Sundays 11am https://www.eventbrite.co.uk/e/element-arts-online-dance-classes-tickets
YOGA CLASS WITH CLAIRE: Tuesday 5.15-6pm & Wednesday 1.05-1.50pm // WILD CORE // book at: https://www.wildwolfsyoga.com/
Thursday // 7-7.45am // FITNESS PILATES // book at: https://www.wearebravemove.com/our-classes
Thursday // 1-2pm // VINYASA YOGA // book at: https://bristolcityyoga.co.uk/
Thursday // 5.45-6.45pm // YOGA // book at:  https://www.nowstudiobristol.com/ 
CLASS WITH IZZY: FUNK SUPREME KEEP THE FUNK ALIVE: Mondays and Fridays https://www.eventbrite.co.uk/e/funk-supreme-dance-keep-the-funk-alive-tickets-100116286508
CLASS WITH JULIA TESTA: Dissolving, a somatic practice with Julia Testa: Tuesday 24th March 1pm – 1.20pm- in English, Thursday 26th 3.30pm – 3.50pm – in Portuguese, Saturday 28th 1.30pm – 2.30pm – in English, Saturday 28th 4.30pm – 5.30pm – in Portuguese *UK timezone
https://www.eventbrite.com/e/dissolving-juliatestas-somatic-practice-tickets-100041386480 .
https://www.eventbrite.com/e/dissolving-juliatestas-somatic-practice-tickets-100041386480.

CLASS WITH HANNAH:
CLASS WITH MICHELA DI FELICE: Commercial, Dance Hall and more IG: michela_di_felice
IG: The_makeup_by_miky FB: Michela Di Felice
CLASS WITH ROSARIA: Daily GYROKINESIS (R) 10.00am https://rosaria-gracia.com/events/gyrokinesis, Afro-Brazilian dance Wednesdays 19.00pm, Thursday and Friday 17.30pm: exploring a variety of styles https://rosaria-gracia.com/profile/about-rosaria
CLASS WITH DANCING ALONE TOGETHER: Dancing Alone Together aims to be a central resource for the digital dance world that is beginning to bloom: https://www.dancingalonetogether.org/?fbclid=IwAR1bd-mh-wTr0lgudtlVCGEk2pJKj2xBR3idl8mFlG8oKOV0Wd3WXQW_5EM
CLASS OF GAGA: https://www.gagapeople.com/en/gaga-online/
And Finally….
Stuff for after it is all over:
Please visit MayaGandaia.com for more information about our
      
ALSO
The team at www.A2Z.Events are trying to help as many individuals as possible to stay physically and mentally fit during these extraordinary times. They are well aware that many hosts are also keen to help remotely by providing healthy activities online. They invite you to list your activities, free of charge on their platform.
Their platform reaches multiple web sites and apps and we will do our best to help both you, the hosts, and those at home.
The steps are to
Sign up at www.a2z.events

Click email to say they are opted in

Add your professional profile

Then click "Add New Event" using the profile and Venue = VIRTUAL ENVIRONMENT using your Professional profile

Add your event details


Please finish all tabs so A2Z.Events can help most fully

Everyone can list for free.
It will take most hosts 10 minutes first time.
If you are doing same time event week, make sure it is put in the recurring weekly section and then you don't have to do it again.
Then 5 minutes per extra session.
If you or others are doing one-offs then add as one-off event.
Please indicate whether your activity session is free for others or if you are asking for a donation or if they will have to pay.
Please highlight how our members can access your session.
Listing and promoting events online is their trade.
They would ask that you consider making a donation towards their hosting costs."