"The superb Ella Mesma" THE TIMES
Ella
An established professional artist with over 15 years of experience in dance and movement, Ella trained at Laban/LSCD and also studied politics at Leeds university. Ella is of mixed heritage and was born in Canterbury, but grew up in Bristol. She has studied dance in Brazil (first visting in 2004), Cuba (first visiting in 2011), NYC (first visiting in 2009 with a Lisa Ullman scholarship) and the UK.
Performance highlights include Russell Maliphant Company, Lea Anderson (The Chomondeleys), Olympics Opening Ceremony. Ella was a Bench fellow and resident at Casa Latin American Festival (2015), Associate Artist at Dance City (2017), Associate Artist Trinity Centre Bristol (2018), Slate World Artist (2020), Pervasive Media Studio Resident (2020). Ella curated She Created Her Life Festival, and produced 5 Roots Of Rumba events: an international dance festival. A WCMT grant took her to Brazil and Cuba (2017) and AIDF awards (2018) took her to Capetown collaborating with South African poet Toni Stuart.
'Maya Gandaia' translates as 'Illusion to Joy' and is an Embodied Alchemy concept Ella created for empowering creatives to release their fears, re-connect to their passion and power, and create a life of joy. Ella is also championing a wellness project called Business Yoga which is all about supporting companies to put wellbeing at the heart of their ethos.
With Ella Mesma Company, 'Ladylike' was runner up as 'Best Dance Production of The Year' LUKAS Awards (2018). Highlights include recent work Foreign Bodies: An Underwater Love Story, funded by Arts Council of England and Metal (Liverpool). The company has been commissioned by Sadler's Wells (Wildcard 2017), RBKC (2015) Metal (2018), Breakin Convention (2011, 2012), Women's International Leadership Conference, NYC (2017), National Circus Centre (2018), ICA Festival, Capetown (2018), IETM (2019).
Ella has studied yoga since 2004, and trained to teach Vinyasa yoga with Abby Hoffman (Embodied Dancer Teacher Training) in 2011 (with a Gil Clarke Scholarship), then Kundalini at the Karam Kriya School in 2018 and in Yoga Trapeze® at the Yoga Teachers College® in 2020. Ella has also practised Ashtanga since 2015, and has trained in TRE, The Wheel Of Consent, Holistic Pelvic Care (under Tami Kent) and the coaching of William Whitecloud.
Ella's first dance was Salsa: she started to dance it aged 14 in Bristol. Ella was also the founder of EAC (Element Arts Company) in Leeds (now handed over to the collective and managed by Hannah Bertram). Ella took this company to gigs across the world (Including two visits to India), they won a salsa competition in 2008, and featured on tv shows and in music videos including for the talented 'Ty'. Ella was Rainha da Bateria for London School of Samba in 2007, and a passista in Rio in 2006. Ella took up breaking (breakdance) in Birmingham where she also worked for Birmingham Royal Ballet, Dance@Highbury and Fox Hollies. Breaking was a refreshing alternative to the Latin world, and her most recent creation in lockdown 'I am all womxn' has received over 6,500 views on facebook.
Our Amazing Artists
Anna
Anna Alvarez studied ballet, athletics and performing arts as a child. In Buenos Aires she studied D.N.I Tango and graduated from the The Faculdade de Dança Angel Vianna in Rio De Janeiro.  She apprenticed with Cia de Dança Deborah Colker in 2013 and Vertigo Dance Company in Israel in 2014. She has worked for Gustavo Cirico, Frederico Paredes, Maira Maneschy, Ella Mesma Company, the Leandro Palou Tango Academy and with Gonzalo Ferro.
Azara
Azara Meghie is a black LGBTQI performer. Her first live solo performance I Am A Woman was created in Jamaica. She collaborated with Kai Fi'ain to develop a video piece which screened at the BFI Flare Film Festival 2017 and seven film festivals across London, Berlin and New York. She has just finished her second film Breaking Down my Trans-Lation.
Benedicta
Benedicta is an independent dance artist from Newcastle. She was born in Angola, Luanda. Benedicta completed her dance training at Dance City, Newcastle; Northumbria University; Gateshead College & London Contemporary Dance School. She has since went on to work with various choreographers and companies in and around Newcastle. Such as balletLORENT, Company of Others, Paradox Pictures, Katie Green, Anna Watkins, Angus Balbernie and more. She is extremely excited to be working with Ella Mesma Company.
David
Born in Lower Hutt, New Zealand, David Evans studied breaking and salsa as a teenager in the U.S. He graduated with a Diploma in Dance from Trinity Laban in 2017 with distinction and was awarded the dance award and choreographer award. David has worked for Ella Mesma Company, Tate Britain (Late at Tate: Speculate Series), The Rambert Building for Vintage Rambert, and Rahel Vonmoos.
Elsabet
Elsabet Yonas is a movement artist, with a background in Hip Hop. Movement is her main tool of expression, but her passion lies in storytelling. As well as creating work for stage and film, she loves performing and teaching. She is currently working in her community as a 'Tottenham UpLIFTer' on a five-year project making art accessible to teenagers. Recent stage work includes 'A/Free-Can' (Zinnema Theatre, Brussels) and 'What I Don't Remember' (Sadlers Wells, London).
Franck
Franck Arnaud Lusbec grew up between Paris and the French Caribbean island Martinique. He attended Rick Odums International Jazz Center where in trained in Ballet, Jazz and Modern. and was also part of a hip-hop company, Insolite Crew with whom he participated in events, music videos (I Got It by Diversidad) and contests such as "MTV Shake ton Booty" (2nd place in 2010, 1st place in 2011). He moved to New York where he joined the Certificate Program at Peridance Capezio Center in 2013. Franck stayed in New York working for INNOvartists and appeared in ABC's Good Morning America as well as music videos. In 2015 he founded Free FAL'L Dance Company who have performed in France, Martinique and Guadeloupe.
Hsing-Ya
Born in Taiwan, Hsing Ya Wu practices Ballet, Modern, Gaga, Tai-Chi, Yoga & Belly dance. Performance experience includes Feng Dance Theatre, Dance Forum Taipei Company, WC dance company, Appetite Dance Productions and Ella Mesma Company. Hsing Ya has also taken part in a Choreography Residency at Watermill Center, Long Island in New York, The American Dance Festival and The Taipei Artist Village.
Isaac
Isaac Ouro-Gnao is a multidisciplinary artist emerging from the Hip Hop Theatre world. London based, his curiosity has seen him develop skills in Hip Hop, dance theatre, film, acting, singing, and poetry for 10 years; scriptwriting, social media and digital marketing, and multimedia journalism for 3 years. This has led to many fruitful creative projects across many sectors. He continues to develop his artistic voice as a company dance artist, movement director and scriptwriter for Body Politic, and as a solo artist creating socio-political work The Oreo Complex – a deeply personal exploration of Black identity through the Oreo (Bounty/Coconut) label
Lucia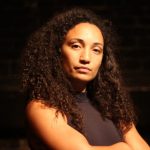 Lucia Afonso is a capoeirista and dancer and trained at CHOREIA in Paris. She is also trained in Break, Popping, Jazz Rock, Hip Hop, Hype and House and has competed and won numerous battles including Juste Debut and Micadanses. Performance experience includes an Afro- Hip Hop company A Part Être who toured France, Europe and South America with their show. She also performs for Jukebox, Orchidaceae Urban Tribal Fusion Belly Dance, Piny Orchidaceae and has performed in Grafitti artist Vhils recent work, DYPTIK, Filastine and more.
Milton 
Milton Lopes won the Best Actor Award with his first participation in a feature film, the award wining The Dauphin. He was born in Cape Verde Islands and grew up in Portugal where he worked as an actor in various TV Series, Theatre Shows and Feature Films. He recently played John "The Savage" in Aldous Huxley's Brave New World for BBC Radio 4. He made is debut appearance in a British film in Bonobo. He works as well as circus aerialist, having performed in the Paralympic Opening Ceremonies. He has worked with Extraordinary Bodies (UK), Strange Fruit (Australia), Circo Crescer e Viver (Brazil), Fura Dels Baus ( Spain) and Graeae Theatre Company (UK).
Ofelia
Ofelia Omoyele Balogun is a Dancer and Movement Artist currently studying Diverse Dance Styles at Irie! Dance Theatre (Roehampton University). Ofelia has been working and collaborating for companies like Irie! Dance Theatre, Ballet Nimba, I Love Myself Hip Hop Dance Theatre and Union Dance among others. Her credits include: Britains Got Talent, British Museum, Wiz'Kid, Patoranking, One Dance UK, Serendipity, African Heritage and Award-Winning Black Movie director Menelik Shabazz. Recently, Ofelia has been touring in Africa with the production "Mirrors" and insight into Afro- Italian descendants life while she keeps travelling to deepen her dance and cultural knowledge in countries like Senegal (Ecole de Sables), Cuba (Danza Contemporanea de Cuba), South Africa (University of Johannesburg ) and Ethiopia (Destino Dance Company). She has been commissioned by Pawlet Brookes – Serendipity (UK), to create a solo work called "The Willow Tree" an exploration of racial and identity duality, performed at LDIF Festival on May 2019. Currently working on developing her choreographic voice focused on Yoruba 's Orishas Dance, AfroCaribe vocab and contemporary technique. She aims to raise consciousness about the necessity of inner journey trough somatic approach workshop and motivational DanceLabs.
Toni 
Toni Stuart is a South African poet, performer and spoken word educator, her work has been published in anthologies, journals and non-fiction books locally and abroad. She has collaborated with artists from a range of disciplines. Her performances include I Come To My Body As A Question with flamenco company dotdotdot, at Sadler's Wells Theatre (London, 2016 & 2017) and a group show at the Paris Autumn Festival 2013 (as part of France South Africa Seasons 2012/2013). In 2014 was part of the Scottish Poetry Library's Commonwealth Poets United exchange. In 2013 she was named in the Mail and Guardian's list of 200 inspiring Young South Africans. She has an MA Writer/Teacher (Distinction) from Goldsmiths, University of London, where she was a 2014/2015 Chevening Scholar.
Our lighting designer
Ciarán 
Ciaran Cunningham has worked closely alongside Ella Mesma since 2011, lighting Ecdysis (Sadler's Wells Lilian Baylis Studio/UK Tour); Orixás (The Place Robin Howard Dance Theatre/UK Tour): Evol (Birmingham Hippodrome/UK Tour): Ladylike (Sadler's Wells theatre/ UK Tour). Ciarán Cunningham trained at East 15 Acting School where he gained a BA Honors in Stage Management and Technical Theatre (Lighting Design). As freelance Lighting Designer he has designed for Into the woods and Brink (Manchester Royal Exchange). Sizwe Banze is dead (Young Vic/UK Tour); Sound of yellow (Young Vic); Sense of sound's: Migration Music (Liverpool Everyman Theatre); Scrappers (Liverpool Playhouse). AFD: Jazz (Florence Fould Hall NYC); AFD: Just Dance (Piazza Teatru Rjal Malta/Winchester Theatre Royal); AFD: Pop 8 (Lion and Unicorn Theatre); Up & Over it (Hackney Empire Theatre); 4 BY 6 and RealPoltik (Michaelis Theatre) and Birds (UK Tour).
Our Costume designer
Sabrina
Sabrina Henry is a costume designer and curator. She works with artists of various disciplines to connect pre-colonial traditions with the British experience as a way to re-imagine the future. Sabrina is part of multi-discplinary, collaborative company V/DA, which works across dance, theatre, visual art and music.
Our Composer
Sabio
Sabio Janiak is a Composer, producer, multi-instrumentalist, one man band, educator, cellular resonance therapist and sound alchemist based in London. Since 2008 Sabio has been working mainly as an accompanist, composer and performer collaborating with dancers, artists, choreographers and dance companies in the UK and abroad. Some of collaborations includes: Hagit Yakira Dance, Hofesh Shechter Company, The Place, Royal School of Ballet , Trinity Laban, School of Machines, Roehampton Uni, RAD , Richard Alston Dance Company, New Adventures, Central St Martins College of Art and Design, London College of Fashion, International School of Costume and Fashion Design in Warsaw, LCP dance theatre ,YLE.-Finnish Broadcasting Company, SYD-Shoreditch Youth Dance, Deborah Galloway(Needlefoot), Victor Fung, Nuno Silva, STDM, Arts Odyssey, Dance Digital, Alchemy Project, Darren Ellis Dance – Arts Trust
Our Collaborators
Luke Pell (Dramaturgy), Rachel Bradbear, Big Feast (Producer), Toni Stuart (Poet), Sabio Janiak (Musician), Keith Mills (Musician), Benjamin Winstone (Technologist)
Previous Dancers
Patrick Ziza (Dancer), Lianett Rodriguez Gonzalez (Dancer), Gabriela Montgomery-Solano (Dancer), Emma Houston (Dancer), Mariana Camiloti (Dancer), Rita Vilhena (Dancer), Sophia Theodosiou (Dancer), Simone Foster (Dancer), Alice Henry (Dancer)
Our Previous Partners
Our mentors and supporters (Thank you)
Nia Phillips, Militsa Stojanovic, Lubi Jovanovic, Bobak Walker, De Napoli Clarke, Merville Jones, Helen Wilson,  ABC Trust, Wieke Eringa, Circo Picolino, Pearl Chesterman, Jonzi D, Kate Scanlan, Dr Abby Hoffman, Bgirl Rokafella, Kwikstep, Angel Ortiz (Lisa Ullman scholarship), Dr Nathalie Teitler, Kev (Renegade), Gavin Vincent, Abby Hoffman,  La Ena- Havana, Funceb- Salvador da Bahia (Winston Churchill Fellowship), Denilson Owulafemi, The Graham school (Lisa Ullman scholarship), Miguel Gonzalez, Lianett Rodrigues, Gil & Shelley (Pexava), Patricia Stead, Pawlett Brookes, Fergus Evans, Charlotte Vincent, Peggy Olislaegers, Lea Anderson, Sharon Watson, Neville Campbell, Ben Dunks…